Bacteria: Shape, Size, Structure, and other Membrane
Introduction
Members of domain bacteria are microscopic, relatively simple, prokaryotic organism that lacks a nucleus.
Bacteria are usually single celled organisms.
Peptidoglycan is present in eubacterial cell walls.
Bacteria have an ability to grow on artificial laboratory media.
Reproduction is asexual type.
Some Bacteria have ability to cause diseases, some form important role in natural cycling of elements which contribute to soil fertility.
Bacteria also useful in industry for manufacture of valuable compounds, manufacturing of antibiotic, food products, some spoil foods and some make foods.
Size of Bacteria
Bacteria range in size from 0.2 – 2 micrometers in diameter, and 0.5 – 5.0 micrometers in length.
Thiomargarita namibiensis & Epulopiscium fishelsoni are large in size and visible through the naked eye.
mycoplasma is the smallest bacteria.
Shape and arrangements of bacterial cell
Cell shape is generally characteristics of a given Bacteria species. The four basics shapes of Bacteria are:
Rod like – bacillus.
Spherical or ovoid- coccus.
Comma shaped- vibrio.
Spiral or helical shaped- spirilla.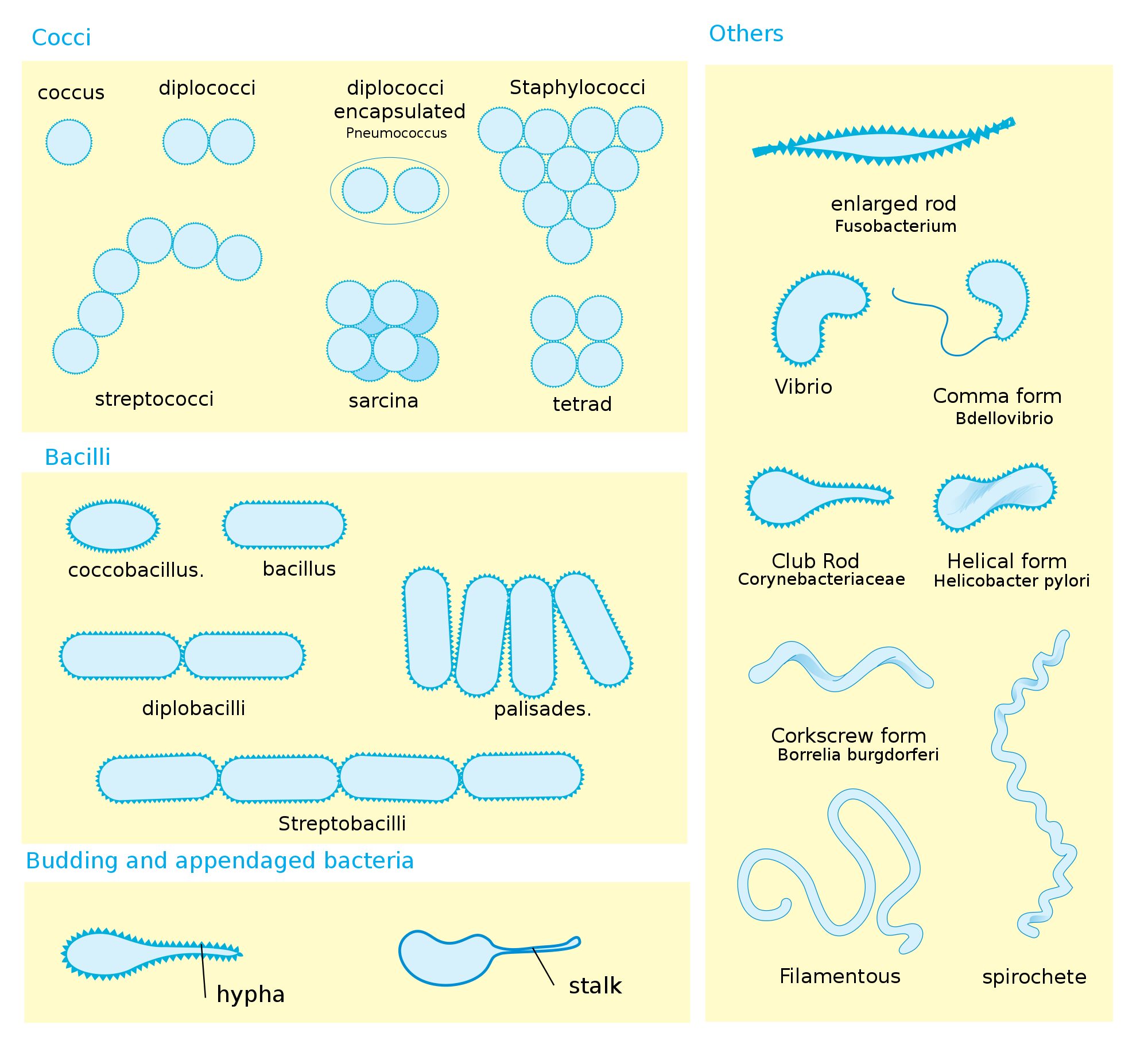 When cocci divide, cell can remain attached to one another.
Diplococci remains in pairs, cells divide in one plane.
Streptococci remain attached to form chains and cells divides in one planes.
Tetrad cocci divides in two planes and remains in group of four, forming square.
Sarcinae are termed when it divides in three planes and form cubelike structure.
Those that divides and form grape like clusters are called staphylococci.
Diplobacilli appears in pairs after division and streptobacilli occurs in chains.
Spirilla fairly rigid Bodies and helical shape.
Spirochetes spirals which are helical and flexible.
Most Bacteria maintain single shape are termed as monomorphic.
Some bacteria like corynebacterium, many shapes and lacks a single, characteristics shape termed as pleomorphic.
Structure of Bacteria
Cell wall
Bacterial cells almost always bounded by a chemically complex wall.
The main function of cell wall is to protect bacteria from osmotic lysis.
Cell wall is chemically composed of peptidoglycan (also termed as Murein).
In gram positive Bacteria, peptidoglycan contains 20 to 80 nm thick homogeneous layer present outer side of the plasma membrane.
The gram negative bacteria consists of  2 to 7 nm thick peptidoglycan layer with a 7 to 8 nm thick outer membrane.
Peptidoglycan is a polymer which contains two sugar derivative:
N-acetylglucosamine (NAG).
N-acetylmuramic acid (NAM).
Amino acids present in tetra peptide includes L- alanine, D- alanine, D- glutamic acid, and either L- lysine or mesodiamino-pimelic acid (DAP).
Many gram negative bacteria have acidic substance called teichoic acids in their cell wall.
The important function of teichoic acid is to give rigidity to the cell wall by attaching cation like magnesium and sodium.
Outer membrane
In addition to peptidoglycan cell wall, the gram negative bacterium contains an additional membrane, the outer membrane.
It contains lipopolysaccharide, lipoprotein, protein and phospholipids.
Glycocalyx
Glycocalyx is thick, high molecular – weight secretory substance and is present in many Bacteria external to the cell wall.
The rigid layers are organized in a tight matrix called a Capsule.
Surface appendages
Three types of surface appendages:
Flagella for locomotion.
Pilli for conjugation.
Fimbriae for attachment.
Flagella
Bacterial flagella are hairlike, helical appendages that protrude through the cell wall and responsible for motility or locomotions.
Flagella occurs in both grams positive and gram negative bacteria.
A flagellum of a gram negative Bacteria such as E. coli, contains three parts:

The long helical filament, which is present on the cell surface.
The short hook structure is present at the end of the filament.
The basal body, to which the hook is embeded and which helps in motion to the flagellum.
Number and distribution of flagella:
Monotrichous have one flagellum.
Amphitrichous one flagellum attached at end.
Lophotrichous cluster of flagella at one end or both ends.
Petritrichous flagella are spread fairly on whole surfaces or surrounded by lateral flagella.
Pilli
The term pilli is used to describe the thin, hairlike appendages on the surface of Bacteria.
Pilli is generally present in gram negative Bacteria.
pillins is the protein that form pilli.
It plays important role in the process of conjugation.
It also function as a receptor for donor specific phages.
Fimbriae
Fimbriae are filamentous cell appendages.
It is present in gram positive as well as in gram negative bacteria.
Mainly arranged by helically composed protein subunit.
Fimbriae mediate cell attachment to the surface.
---
Reference and Sources
1% – https://courses.lumenlearning.com/wmopen-biology2/chapter/the-structure-of-prokaryotes/
1% – https://www.sciencedirect.com/science/article/pii/B9780128174951000074
1% – https://www.biologydiscussion.com/notes/bacteria-notes/notes-on-bacteria-biology/34260
1% – https://alldokument.com/micro-biology-std11-english-medium.html
1% – https://quizlet.com/224428733/microbiology-chapter-4-flash-cards/
1% – https://www.ncbi.nlm.nih.gov/pmc/articles/PMC3359400/
2% – https://www.slideshare.net/sardar1109/bacteria-64730553
1% – https://pt.scribd.com/document/155465203/5097
1% – https://www.studyblue.com/notes/note/n/exam-2/deck/4346216
1% – https://idoc.pub/documents/thephysiologyandbiochemistryofprokaryotes-1430rzprgo4j
1% – https://www.ncbi.nlm.nih.gov/books/NBK8477/
1% – https://www.cell.com/trends/microbiology/comments/S0966-842X(99)01513-9
Also Read:
Bacteria: Shape, Size, Structure, and other Membrane