Riboflavin: Fermentation, Harvesting and Uses

CONTENTS
Introduction
Microorganism's
Fermentation
Harvest
Uses
INTRODUCTION
Riboflavin, also known as Vitamin B2 is a vitamin which is commonly found in food and used as dietary supplements.
Vitamin B12 is that the Constituents of Flavin mononucleotide (FMN) and Flavin adenine dinucleotide(FAD).
When phosphate is added in the Riboflavin FMN is synthesized.
Transfer of an AMP moiety from ATP to FMN results in the formation of FAD.
Food sources of riboflavin includes, eggs, green vegetables, milk and other dairy products.
Riboflavin is a that type of vitamin which is essential for the growth and reproduction of both humans and animals.
It often employed as feed additive for the nutrition of various domestic animals.
MICROORGANISMS
Various microorganisms can be employed for the fermentation production of riboflavin.
Riboflavin is a byproduct of the acetone butanol fermentation as carried out by microorganisms such as Clostridium butylicum, C. acetobutylicum.
It is produced commercially by direct fermentation utilizing the ascomycetes Eremothecium ashbyii and Ashbya gossypii.
Various candida species such as Candida flareri, Candida guilliermondia.
FERMENTATION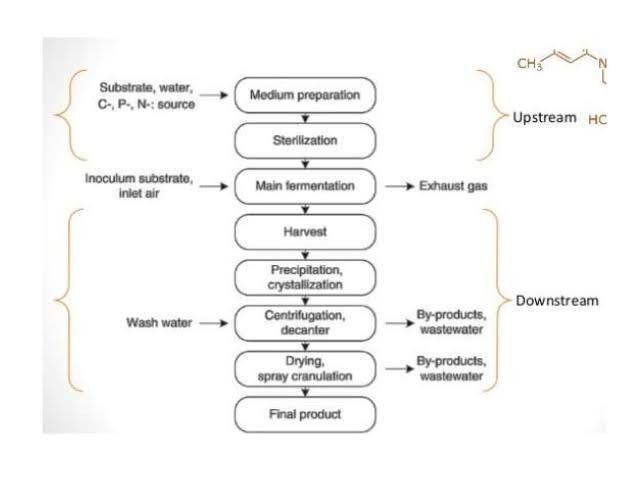 Fermentation of the ascomycetes riboflavin utilizes media which contains a semi purified sugar like glucose, plus crude organic nutrients.
Glucose could be totally replaced by a lipid such as corn oil, or a low level of corn oil and may be added to the glucose which may stimulates the yields of riboflavin.
PH is adjusted 6 to 7.
Ashbya gossypii fermentation is conducted at a temperature of 26 to 27˚C for 4 to 5 days.
It is submerged and, fermentation is aerated but aeration should be avoided because excess air inhibits the production of mycelia and also reduces the yields of riboflavin.
HARVEST
At harvest, the culture is evaporated and dried to serve as feed supplement.
Those riboflavin fermentation utilizing species of candida are extremely sensitive to the presence of traces of iron and as a result iron or steel equipment cannot be used.
Allowed the advancement by Kapralek (1962) and Starka (1957) for at least partial explanation. These workers demonstrated that the fermentation progresses through three phases.
In the first phase, rapid growth with little production, glucose rapidly utilized and oxidized, pH Decreases because of pyruvic acid.
In the second phase, sporulation occurs and pyruvate decrease's in concentration, ammonia accumulate, rapid synthesis of cell bound riboflavin, occurring as FAD & FMN.
In the last phase, autolysis occurs releasing free riboflavin into medium as well as riboflavin in the nucleotide form.
USES
VitaminB12 is needed for growth and overall development and maintain good health.
It helps to improve cardiovascular health.
Riboflavin is vitamin which is required by the body for cellular respiration.
Taking high doses of riboflavin reduce the number of migranic headache.
This Supports eye health by maintaining healthy glutathione levels.
It is also utilized for the development and function of skin.
Reference and Sources
1% – https://www.researchgate.net/publication/7171630_Riboflavin_analogs_and_inhibitors_of _riboflavin_biosynthesis
1% – https://en.wikipedia.org/wiki/Vitamin_B2
2% – https://www.researchgate.net/publication/238278249_Riboflavinaufnahme_und_-speiche
rung_durch_Zellen_der_flavinogenen_Hefe_Pichia_Candida_guilliermondii
1% – https://optihance.com/product/optihance-nootropic1-neuro-brain-enhancer/
3% – https://spotlightonbusinessmagazine.com/%ef%bb%bfholistic-health-nutrients-a-to-z-vitamin b2-riboflavin/
Also Read:
Riboflavin: Fermentation, Harvesting and Uses