Different Types of chromatography
Chromatography is a technique in which substance are separated, purified and identified from a mixture for qualitative and quantitative analysis. On the basis of hydrophobic interactions, Polarity, enzymes and net charges are separated by using chromatography.
Chromatography is a physical method of separation of compound.
Chromatographic techniques cam be classified into main categories:
Partition chromatography.
Adsorption chromatography.
Adsorption chromatography
It is a type of chromatography in which is the separation of components presents in a mixture is based on the relative differences in adsorption of components to the stationary phase present in the chromatographic column.
The component of mixture travels with different rates due to differences in their non-covalent interactions with stationary phase.
adsorption chromatography consists of solid stationary phase (known as adsorbent). The mobile phase is either liquid or gas.
Adsorbents can be polar or non-polar molecule.
Partition chromatography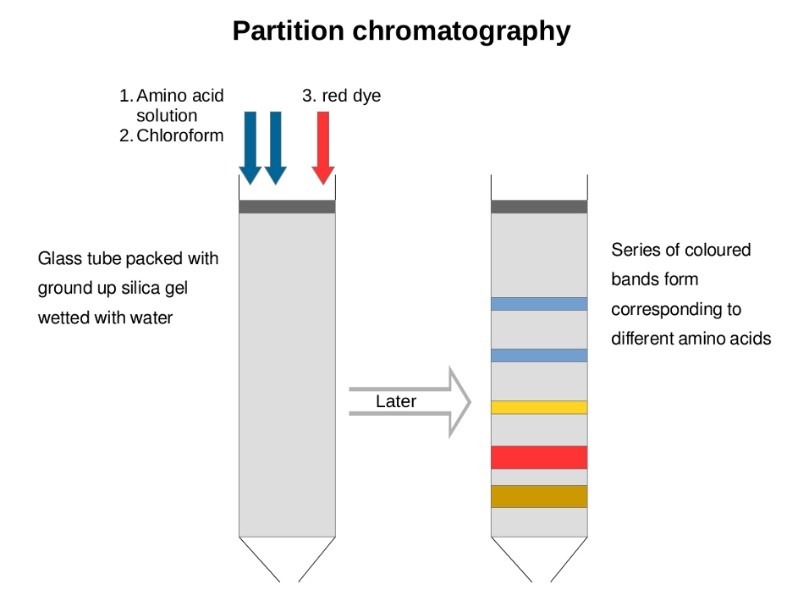 In this type of chromatography, the components of the mixture are distributed into two phases due to differences in partition coefficient (Kd), which is the ratio of concentration of solutes in two phases.

The distribution of solutes between the two phases is most primarily based on solubility differences.
In the partition chromatography, the stationary phase is liquid and mobile phase is either a liquid or a gas.
Liquid-liquid partition chromatography
In this type of partition chromatography, separation is based on solute partitioning between stationary liquid phase and mobile liquid phase.
Substance which are more soluble in the mobile phase will pass rapidly through the system, while those which favor the stationary phase will be retarted.
It is of two types:
Normal-phase partition chromatography: an elution chromatography in which the stationary phase is more polar than the mobile phase. During elution least polar analyte is eluted first and the most polar last.
Reversed-phase partition chromatography: an elution procedure in which the mobile phase is significantly more polar than the stationary phase. In this case, most polar solutes elute first and least polar elute last.
Size exclusion chromatography
They are also known as molecular sieve chromatography.
It involves the separation of molecules on the basis of size and shape.
In this, a column matrix is filled with porous gel beads, which is made up of an insoluble and hydrated polymer such as polyacrylamide or dextran or agarose acts as stationary phase.
Size exclusion chromatography is of two types:
Gel permeation chromatography.
Gel filtration chromatography
Gel permeation chromatography generally uses organic mobile solvent while gel filtration chromatography uses aqueous mobile solvent to separate and characterize molecules.
Affinity chromatography
Affinity chromatography is a technique involves purification of a biomolecule with respect to biological function or individual chemical structure.
The substance to be purified is a specifically and reversibly adsorbed to a ligand, which is immobilized by a covalent bond to a chromatographic bed material.
The operation of affinity chromatography includes the following steps:
Choice of an appropriate ligand.
Immobilization of the ligand onto a support matrix.
Binding of the molecules of interest with the ligand.
Removal of non-specifically bound molecules.
Elution of the molecules of interest in a purified form.
Choices of ligand
Specificity
Reversibility
Stability
Size
Affinity
High performance liquid chromatography
HPLC is a type of column chromatography.
It is a liquid chromatographic technique i.e. mobile phase is liquid.
In this technique stationary phase may be solid or liquid.
This technique of chromatography can function in several chromatographic modes: size exclusion.
Adsorption, ion-exchange and partition.
Instead of a solvent being allowed to drip through column under gravity, it is forced through under high pressure. It yields high performance and high speed compared with traditional column chromatography technique because mobile phase is pumped with high pressure.
Ion exchange chromatography
It is employed for the separation of charged molecules.
In this type of chromatography, ionic solutes display reversible electrostatic interactions with a charged stationary phase.
The stationary solid phase generally consists of covalently attached anions or cations with an insoluble matrix called ion exchangers.
Ion exchangers
It is made up of two parts- an insoluble matrix and chemically bonded charged groups within an on the surface of the matrix.
Cation exchanger: also known acidic ion exchanger, it is used for the separation of cation.
Anion exchanger: also known basic ion exchanger, it is used for the separation of anion.

Gas chromatography
In this type of chromatography, a carrier gas is the mobile phase and the stationary phase is either a solid adsorbent which is termed as gas-solid chromatography, or a liquid on an inert support termed as gas-liquid chromatography.
This technique is commonly used to analyze volatile substances in the gas phase.
Gas chromatography is only type that does not utilize the mobile phase for interacting with the analyte.
Reference and Sources:
https://www.researchgate.net/publication/310994699_Fundamentals_and_Techniques_of_Biophysics_and_Molecular_Biology
https://www.slideshare.net/NawfalAldujaily/advanced-techniques-and-laborotory-equipments-for-biologists
https://www.slideshare.net/ErFarukBinPoyen/gas-chromatography-73238946
http://mytutorial.srtcube.com/high-performance-liquid-chromatography-hplc/environment-science/826-528
https://www.powershow.com/viewht/4289ca-ZjQ0N/Affinity_Chromatography_powerpoint_ppt_presentation
Different Types of chromatography